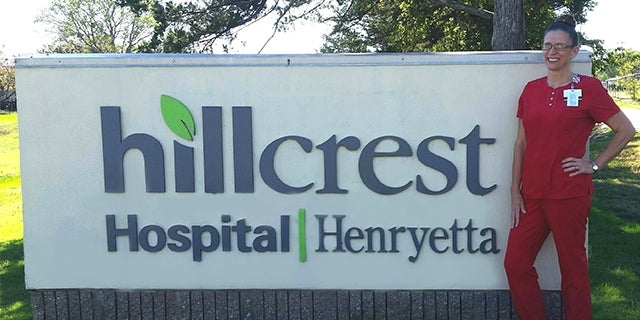 Every interaction with every patient matters. It defines the patient experience and is the driving force behind Mary Fisher's, RN, passion. "I want to be able to make that difference for patients and their loved ones," she adds. Mary is so deeply rooted in this focus that she now serves dual roles as patient experience manager and Emergency Department manager. She understands the impact of the patient experience after suffering the loss of her mother. "It was a very difficult time for me. That was one of the changing moments in my life and changed the way I view how we are handling the patient experience."
When she walked into Hillcrest Henryetta three years ago as a part-time nurse, it didn't take Mary long to feel at home. "I fell in love with the facility and the people who work here," she says. "As a floor nurse, I could see that it was such a family atmosphere here." Mary picked up shifts anywhere she was needed in the hospital until a full-time position opened up in the Emergency Department, where she eventually was promoted to manager.
"I'm still a nurse first and foremost," she explains. "I'm not your typical nurse manager and I don't ask my staff to do anything I wouldn't do." From wearing scrubs every day to work to picking up shifts to help her staff, Mary says she is very purposeful in these decisions, including not having an office. "I'm here elbow-to-elbow with everyone in the Emergency Department. My staff has my cell phone number and if there is anything they need, they know they can ask me. I think that's important they know they can talk to me."
Mary's career in nursing was inspired by her grandmother, whom she grew up watching enjoy this field as well. "Like her, I also had a desire to help people and I'm a very caring person," Mary adds. From early on, she understood that empathy was at the core of the patient experience and that includes patient's loved ones. "There is always someone there. You never know how you will impact them."
Today, Mary works closely with her team to ensure they have this perspective each and every day. "You strive for 100 percent satisfaction with the patient experience," she says. "I want everyone to say it was a great experience and they would send their family to our hospital." It is an expectation Mary understands is very much dependent on how providers, nurses and staff work together. "We have that closeness of the staff and willingness to work tougher. You won't hear us saying, 'That's not my job,' because it is our job."
The environment of compassion for patients and fellow staff, Mary says, is fostered by the leadership. "From our CNO April Secor, RN, to our CEO Dee Renshaw, we have such great leadership," she says. "Ardent President and CEO David Vandewater and Hillcrest HealthCare System CEO Kevin Gross are very down-to-earth, top-notch people. They are very involved with our company and they believe in us as leaders. That's why Hillcrest Hospital Henryetta is growing."
That growth directs Mary's focus on patient experience even more as the hospital accommodates more patients, especially in their Emergency Department. "The patient experience starts when you walk in the door," Mary adds. "I need them to be wowed from the time they walk in until the time they go home. We are here to make sure patients get everything they need and the continuity of care throughout the hospital."
To learn more about career opportunities at Hillcrest Hospital Henryetta, please click here.