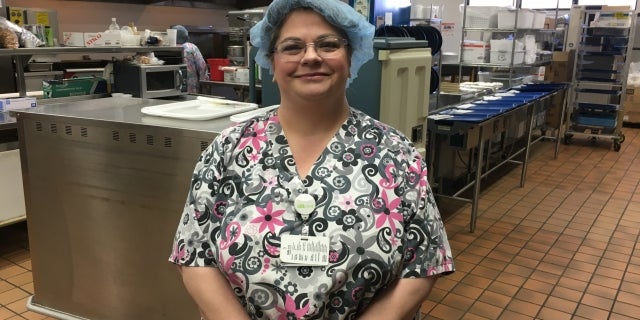 March is National Nutrition Month. Eating healthy is one of the best things you can do for your body, but it can get expensive. Fresh produce and lean meats are almost always included in a healthy regimen, but tend to be some of the most expensive items in a grocery store. The good news? There are lots of great, healthy options available to keep you in line with your healthy lifestyle.
Lisa Stokes, Hillcrest Hospital Henryetta's dietary manager, shared some valuable information with regard to eating healthy on a budget.
Frozen vs. Fresh
Most frozen fruits and vegetables are allowed to fully ripen and are frozen shortly after they have been harvested, which locks in the nutrition. Because freezing preserves food, no additives are needed.
On the other hand, much of the fresh product in grocery stores is harvested before reaching its nutritional peak, since it has to travel long distances by truck. As a result, some fruits and veggies ripen unnaturally during transport.
Fast Food
More and more fast food chains are adding healthy options to their menus. Subway offers a "Fresh Fit" menu, which features a six-inch club that comes in at around 400 calories. If you want chips, go for the baked option. Taco Bell has a "Power Bowl" (a taco salad without the shell) that's around 500 calories. If you leave off the rice and avocado sauce, that gets it down to 290 calories. Additionally, the Hillcrest Hospital Henryetta cafeteria is open to the public and has a great salad bar.
Grocery Shopping Tips
When buying fresh produce, buy what's in season. The in-season vegetables and fruits are where you will find the best deals. If you are meal prepping, buy large quantities and separate them into the amount you need per meal. When it comes to canned or boxed foods, buy generic brands. If you want to use coupons, check local advertisements and visit coupon websites to see which discounts pair up with your preferred grocery store.
Budget friendly foods
Eggs: Eggs are a great source of protein and can be eaten any time of the day in many different ways. Boil a dozen to keep in the fridge for grab-and-go snacks, or use them to make a frittata or omelet.
Oats: A large canister of plain rolled oats can really stretch your food dollar. One serving of rolled oats provides approximately 150 calories, five grams of protein and four grams of fiber. The fiber contained in oats has been shown to help lower cholesterol and keep you fuller longer.
Beans: Black, pinto or kidney beans are the most inexpensive healthy foods available. A half cup of cooked beans has approximately 114 calories and 7.5 grams of fiber and protein. The extra protein and fiber is what satisfies you and makes for a healthy digestive tract, as well as helps reduce the risk of colon cancer.
Sweet Potatoes: One medium baked sweet potato provides almost 40 percent of the recommended amount of vitamin C and close to four times the recommended daily amount of vitamin A. The bright orange color indicates the presence of beta carotene, an antioxidant linked to cancer prevention and antiaging.
Mixed Vegetable Blends: Containing several different vegetables in one bag, frozen mixed vegetables blends are an easy and cost-effective way to incorporate a colorful variety of healthy produce into your diet. You can cook the amount you want and put the leftovers in the freezer.
Bananas: Bananas are a bargain hunters dream. Select green, relatively unripe bananas at the store so they will last for a week or so. If they start to turn black, toss them into a plastic storage bag and freeze them for smoothies, or mash them up and mix into oatmeal, low-fat muffins or pancakes.
Peanut Butter: Peanut butter is a concentrated source of protein, as well as heart-healthy mono-saturated fats, and vitamins E and B.
Eating healthy on a budget may seem like a daunting task, but with a little preparation and commitment, it can be done. Happy National Nutrition Month!