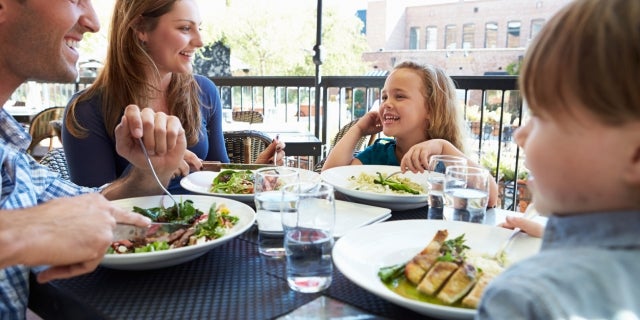 For many people, eating every meal at home each day can be a bit of challenge. Busy schedules, convenience and the enjoyment of socializing with friends and family can lead to grabbing a bite at our favorite restaurants. However, while healthy eating starts at home, it doesn't have to end there.
Most restaurants recognize the benefit of offering healthy meal options consisting of foods low in trans fats, saturated fats and cholesterol. Often these alternatives will be highlighted on menus as healthy, yet still delicious.
The best way to stay healthy when dining out is to know what's on the menu and use that information to make nutritious meal selections. The American Heart Association shares some essentials tips to help you and your family achieve a healthy dining experience away from home:
Avoid consuming drinks and appetizers that increase sodium,

fats

and calories before and during your meals.

Request that butter, sauces and salad dressings be served on the side.
Select boiled, baked, broiled or grilled fish or chicken.
Stay away from foods that are high in sodium; these include items that are smoked, pickled, in broth or marinated in soy or teriyaki sauces.
Inquire about food preparation and select items that have been prepared in monounsaturated oils such as olive oil, canola oil

and peanut oil.

Ask if smaller or lunch-sized portions can be provided. If not, ask about sharing your entrée or request a to-go box when your order is placed and take half home with you.
At the salad bar select leafy greens, fresh raw vegetables, fruits

and beans. Use reduced-fat, low-fat and fat-free dressings.

When making dessert selections choose fresh fruit, sherbet, gelatin and angel food cake rather than the more common high-fat desserts.
Use 1 percent or fat-free milk in coffee instead of cream or half-and-half. Inquire about healthy substitutions for side items; for example, salad for coleslaw or a baked potato instead of French fries.
Although some of the substitutions may cost a little extra and require additional requests, the increase in health benefits are well worth it when it comes to your health. When you are eating out always remember to enjoy yourself and take time to consider the best options for you. For more information about nutrition and healthy eating, click here.