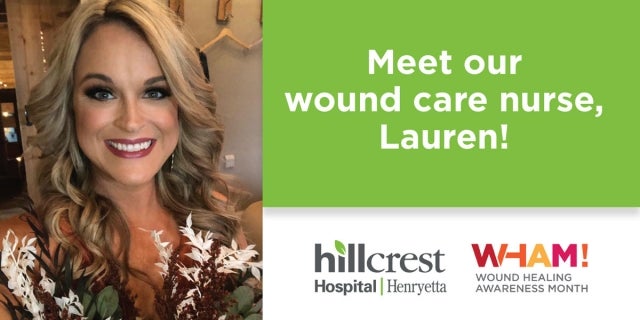 Lauren Skaggs, RN, BSN, CWS, CWCN, is a wound care nurse at Hillcrest Hospital Henryretta Comprehensive Wound Care Clinic. Skaggs answered questions about her background in nursing and what drives her each day.
Q: What made you want to become a nurse?
A: My mom. She was a nurse and was admired by so many of her coworkers, patients, friends and mostly by me. She motivated me to follow her in her footsteps. I am proud to say I did just that.
Q: What motivates you when faced with adversity?
A: A positive attitude with things beyond my control and a good sense of humor.
Q: Can you describe a recent moment that made you proud to be a nurse?
A: My mother was diagnosed with terminal Stage 4 ovarian cancer in August 2021 at the age of 62. I was devastated, but I also knew that my training as a nurse was about to take on a whole new meaning. I was able to help completely care for, and guide, my mother to die with dignity. As a nurse of 14 years, I've helped countless people. But to help the one who helped me so much, who loved me so much, in such a profound way, was truly special and something I'll forever be grateful for being able to do.
Q: How do you make a difference in the life of a patient with wounds?
A: It is simple. I heal them. As a team we figure out the complicated, challenging puzzle and put patients on a trajectory for successful outcomes. When a patient comes to us, they are broken, frustrated and, most times, defeated. It is my job, and my calling, to not only help heal these patients' wounds, but also guide them emotionally and physically to help them overcome the obstacles that may have got them there to begin with. Wound care is a challenging field, and I am proud to be wound care nurse.
If you or a loved one has a wound that is of concern or is not healing properly, please visit Hillcrest Henryetta Comprehensive Wound Care Clinic for more information or call 877-295-2273.