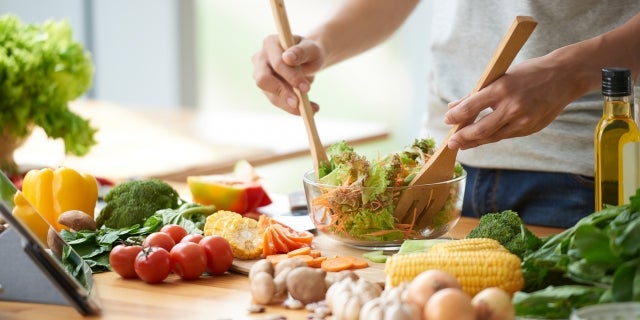 We've all heard how many salads that we think are "healthy" are just wearing disguises under all of the delicious cheese, processed dressing and fried toppings that get added! While we think that a salad bowl filled with greens and veggies is sure to be healthy, we know that what goes into the salad can determine otherwise. We've put together a few of our favorite tips and tricks to make a healthy, yet delicious salad below!
1. Add protein
When adding protein to a salad, the options are endless! Chicken, shrimp, beef, tofu and eggs are just some of the proteins you can add to your salad. Be sure when choosing protein that it is grilled or baked rather than fried -- fried food gives extra calories and is very fattening. A hardboiled egg or two is not only a great, quick option to add protein, but also a wonderful  source of Vitamin E if you're looking to switch it up from the usual chicken or shrimp. You can also add protein-rich fish like salmon or tuna for some extra flavor.
2. Make your dressing at home
Store-bought dressings are notorious for being filled with preservatives, added sugars and other junk. Many times, the salad dressing is what makes the salad unhealthy! An easy fix for this is making your own salad dressing at home. It may be a little intimidating, but it is quite easy once you've gathered all of your ingredients. You may even have many salad dressing ingredients already in your kitchen -- olive oil, honey, balsamic vinegar and lemons are a few of our favorites to use. By making your dressing at home, you have complete control over every ingredient that goes into the dressing, which means you can make it completely healthy and guilt-free!
3. Top with seeds and nuts
You may not immediately think to add seeds and nuts to your salad, but they are excellent sources of protein. They are also a healthy alternative to croutons or crispy wonton strips if you're looking to add that extra "crunch" into your salad. Walnuts, pecans, almonds and cashews are all great choices when it comes to adding nuts to your salad -- just make sure they are not sugar-glazed or salt-roasted, as that can add extra sugar and sodium.
4. Add healthy fats
Chopped macadamia nuts, avocados and cheese are just a few of the healthy fats that make great salad toppings. Small cups of these add a serving of healthy fat but don't add a lot of extra calories the way some other salad toppings do. Put down the bacon bits, croutons and crunchy noodles and swap them out for a healthy fat when making a salad.
5. Add sprouts
Another great way to add health benefits to your salad is to top it with sprouts. Known to improve heart health, boost metabolism and improve digestion, it's a no-brainer that your salad should be topped with these! Bean sprouts are loaded with Vitamin K and are a great source of fiber, and they also add a nice crunch! Broccoli sprouts are another crunchy option, with health benefits including support of strong bones and improving respiratory function.