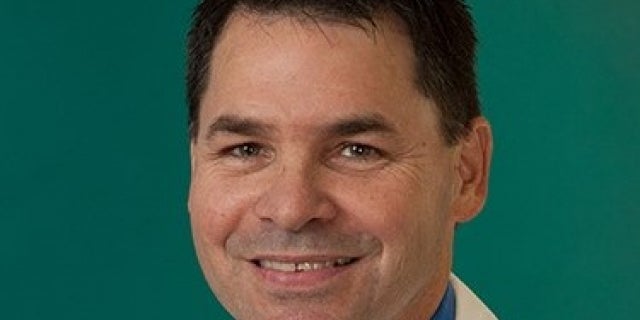 (March 30 is National Doctors' Day. Hillcrest Hospital Henryetta would like to thank our physicians for the dedication and passion they show for their patients. In honor of National Doctors' Day, we would like to spotlight Michael Cain, D.O., who is certified in family medicine.)
Michael Cain, D.O, from Utica Park Clinic at Hillcrest Hospital Henryetta could relate to some of what his COVID-19 patients have been experiencing over the past year.
That's because Cain, himself, tested positive for the virus last summer.
"Fortunately, my symptoms were mild," Cain said. "I had some aches and headaches, but it wasn't too bad."
Cain was quarantined for 10 days but stayed in touch with patients through virtual visits during that time.
"My biggest concern was protecting people around me," he said. "I stayed away from my wife (who did not test positive) in the house. We used masks if we weren't six feet apart."
Rather from his personal situation or what he has dealt with at Hillcrest Henryetta, Cain said the past year has been a learning experience in coping with the pandemic. Cain and the staff educated and prepared themselves extensively in order to care for COVID patients while still learning about the novel virus in real time.
"The key thing was we were kind of handcuffed," Cain said. "We didn't have testing at first. There really wasn't any treatment. We were trying to get a feel if there was something else causing this. And we were trying to be available to our patients by educating them. We told them to make sure you quarantine and stay away from other people."
"I think the toughest part was, as a doctor, you want to be able to offer something. And maybe feeling like you didn't have the answers was the most frustrating thing, not knowing."
The staff performed curbside screenings, added designated areas to care for COVID patients inside the hospital and offered phone and virtual appointments as well.
Cain, a physician at Hillcrest Henryetta since 2008, said activity has slowly began to normalize a year into the pandemic. Cain reaffirmed the hospital is continuing to take the proper actions to ensure the safety of patients and staff. 
"I try to encourage (patients) and let them know we're still taking precautions and screening people at the door," Cain said. "Trying to reassure them this is a safe place. It's safer than going to Walmart."
To make an appointment with Cain, call 918-652-9650.