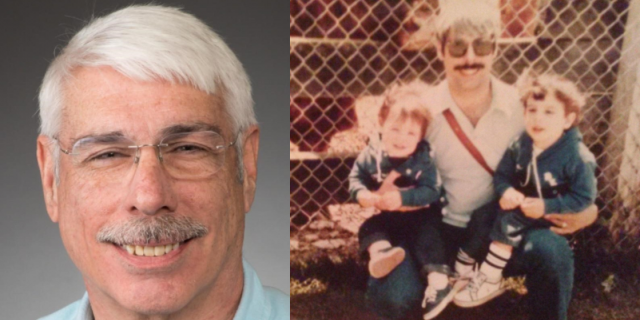 (March 30 is National Doctors' Day. Hillcrest Hospital Henryetta Hospital would like to thank all of our physicians for their passion to deliver unsurpassed patient care. In honor of National Doctors' Day, we spotlight Carl Glidden, D.O., emergency medical director.) 
Carl Glidden, D.O., emergency medical director at Hillcrest Hospital Henryetta has experienced a lot of changes since he first got into medicine six decades ago.
Glidden will turn 65 next month. The New Hampshire native has had a fascinating, well-traveled career, which has included the last 15 years with Hillcrest Henryetta.
Born and raised Catholic, Glidden's early childhood aspirations centered around one day becoming a priest, but his focus switched to medicine during his junior high days after experiencing a series of family tragedies. Glidden's older brother and both of his parents died by the time he turned 16.
"At some point, part of me said, 'Sheesh! I wish I could do something about this,'" Glidden said about his early interest in the medical field.
In 1970, Glidden became the youngest EMT in the state of New Hampshire at just 16. He later joined the Army as a medic and spent three years stationed in Fort Benning in Georgia. 
Glidden later got into pharmaceutical sales, but that lasted just a couple of years.
"I had a bachelor's degree in biology, but I didn't really enjoy it very well," Glidden said.
Instead he opted for medical school. Glidden was accepted to Philadelphia College of Osteopathic Medicine, which was the largest school of osteopathic medicine in the United States at the time. Following graduation, Glidden served seven years in the Air Force and took his residency training at Eglin Air Force Base in Florida, located in the panhandle near the Destin area.
"I was working 30-hour shifts, but I was learning to take care of people," Glidden said.
Glidden then traded in the warm weather of the everglades for the artic climate of the Aleutian Islands for one year as an active service Army Medical Corps officer. Glidden said he was the only physician for 1,600 miles on the islands, which stretch between the Alaskan and Russian borders and are sandwiched between the Northern Pacific Ocean and Bering Sea.
"I think the warmest day there was 51 degrees," said Glidden, who also taught a couple of college-level biology classes during his time living in the Alaskan territory. "We had one day with 110-mile-an-hour winds. There is nothing between the North Pole and the Aleutian Islands. It's flat. There's no town, just an army base. It was a gloomy place."
Glidden finished up his military service when he spent three years at Dover Air Force Base in Dover, Delaware. Eligible to rejoin civilian life, Glidden worked at the Fort Walton Beach Medical Center in Fort Walton Beach, Florida for the following 11 years, including two as the county medical director.
It was during that time Glidden met his current wife, Sharon.
"She ran an assisted living facility in Florida," Glidden said. "The facility was across the street from the hospital. She would come into the ER occasionally with one of the residents and I would see her."
In 2004, Glidden and his new bride moved to the Henryetta area, not because of his aspirations in the medical field but for another reason.
"We actually came here to start a guest ranch, kind of like (the movie) 'City Slickers,'" Glidden said. "My wife had friends that managed a cattle ranch in Texas and I was fascinated with it. The open space. Giant pastures. We checked out places in Texas, New Mexico and found this place."
The Glidden ranch was a success initially. They attracted quite a bit of European business before the Great Recession hit at the end of the 2000s. The couple instead decided to transform the 900-acre ranch into Tiger Mountain Recovery Addiction Rehabilitation.
"My wife and I have both had ones close to us who were affected by addiction," Glidden said. "We figured it was a way to give back to others with addiction and also to the families who are terribly affected by the addiction."
In addition to his medical, military and academic background, Glidden once held jobs as a dishwasher, roofer and even a stint with an ambulance company during college. Those experiences have been an invaluable asset to Glidden in his interactions with patients at Hillcrest Henryetta over the past decade and a half.
"You carry that into medicine with you," Glidden said. "It's dealing with people from different perspectives."