Stephanie Rucquoy, APRN-CNP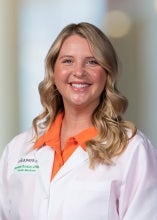 Location
Utica Park Clinic - Henryetta
Henryetta,
OK
Specialty
Stephanie Rucquoy, APRN-CNP, specializes in family medicine. Her professional areas of interests besides family medicine are preventive care, pediatric care, women's health and geriatric care.
Stephanie's pathway to becoming a nurse practitioner began in November of 2013 after experiencing the tragic loss of her grandpa. She and family spent the few days they had with him at the hospital before he passed. Stephanie said in those few days of chaos and pain, she found clarity on what she wanted to do for a career. "I knew in my heart that nursing was the profession I was meant to do," she said. "To take care of people on some of their worst and best days. I went into this profession to give back and make a difference, but what I did not expect was the impact my patients would have on me."
Now, after several years' experience working bedside in pediatrics, she provides care for the entire family. "One of the best things I learned from being a pediatric nurse was how to advocate for my patients. Babies and children cannot always speak for themselves and what they need. I will be a health care advocate for each of my patients and be a guiding hand in their health care journey. Being an advocate is a crucial step in helping my patients to feel their best both physically and mentally," she said.
Stephanie's goal as a provider is to make sure her patients are being listened to. She said, "For my patients walking through really hard times, I like to remind them that I am here for them and to take it one day at time. Don't overwhelm yourself with worry over the future because we are not there yet, and life is always changing."
Stephanie's education includes:
• Master of Science in nursing (MSN) degree with a family nurse practitioner (FNP) concentration at the University of Oklahoma in Tulsa (OU-Tulsa), 2022
• Bachelor of Science in nursing (BSN) degree at the University of Oklahoma in Tulsa (OU-Tulsa), 2016
• Bachelor's degree at Northeastern State University in Broken Arrow, 2013
When Stephanie isn't working at the clinic, she likes to spend time with her husband, son, family and friends. She loves to travel with her family and hopes to visit each national park.
She welcomes new patients and accepts most insurance plans at:
Utica Park Clinic
2403 W. Main St.
Henryetta, OK 74437
For more information or to schedule an appointment, call 918-652-9650.