Rashelle Phelps, APRN-CNP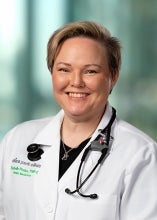 Location
Utica Park Clinic
2405 W. Main St., suite A
Henryetta,
OK
Specialty
Rashelle Phelps, APRN-CNP, specializes in family medicine and believes caring for the whole person – body, mind and spirit – is essential.
Rashelle's career began in 2012 as a nurse in the emergency room (ER) at Hillcrest Medical Center. As years passed, she eventually found herself in 2016 working as a flight nurse out of Henryetta, serving as rapid response to critically ill or wounded patients.
She says, "While trauma and critical care will always have a special place in my heart, I chose to become a family nurse practitioner to help people live their healthiest lives and hopefully prevent the need for critical care services someday."
Rashelle's education includes:
• Bachelor of Science in nursing (BSN) at Oral Roberts University (ORU) in Tulsa, 2012
• Master of Science, Family Nurse Practitioner (MSN-FNP) at Chamberlain University in Illinois, 2021
She says, "When I'm not in the clinic, hospital or helicopter, you'll most likely find me enjoying time with my family, hiking, hitting the gym or finding a new adventure."
Rashelle welcomes new patients and accepts most insurance plans at:
Utica Park Clinic
2405 W. Main St., suite A
Henryetta, OK 74437
For more information or to schedule an appointment, call 918-248-8741.