Melody Evans, APRN-CNP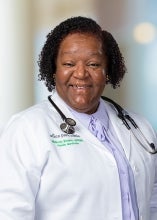 Location
Utica Park Clinic - Okmulgee
1101 S. Belmont Ave., suite 205
Okmulgee,
OK
Specialty
Melody Evans, APRN-CNP, specializes in family medicine, and chose to pursue a career in health care because it allows her to help others in advanced and diverse ways.
She believes that everyone deserves quality access to health care and that she can be helpful to Okmulgee-area residents. "Those who live in rural areas are at a disadvantage due to so many factors," she said. "I feel as if I can be a valuable resource in those underserved areas."
She encourages her patients to be proactive in their health care instead of reactive. "I invite each patient to participate in establishing a treatment plan that is best for them and the outcome they want to achieve," she said.
Melody's education and certification includes:
• Family nurse practitioner certification, 2021
• Master of Science in nursing (MSN) – Family Nurse Practitioner (FNP) from University of Phoenix, 2021
• Bachelor of Science in nursing (BSN) from Oklahoma Wesleyan University, 2007
• Associate degree in applied science from Connors State University, 1995
Outside of working at the clinic, Melody enjoys cooking, shopping, traveling and spending time with her family.
She welcomes new patients and accepts most insurance plans at:
Utica Park Clinic
1101 S. Belmont Ave., suite 205
Okmulgee, OK 74447
For more information or to schedule an appointment, call 918-574-0330.