Kyle Brown, D.O.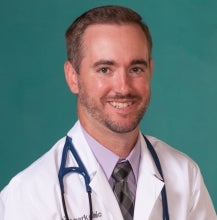 Location
Hillcrest Hospital Henryetta
Henryetta,
OK
Specialty
Kyle Brown, D.O., has worked in health care since 2013. He cares for hospitalized patients at Hillcrest Hospital Henryetta. During his medical training, Dr. Brown concentrated on internal medicine. He chose to focus on this because he enjoys all areas of medicine and didn't want to limit himself to one specific organ system. "Internal medicine allows me to keep a broad scope of practice," he said. "My goal is to help my patients in a rural setting without having to send them to a specialist in another city."
When teaching patients how to stay healthy, Dr. Brown emphasizes the importance of an overall healthy lifestyle. "A good diet combined with exercise will help to treat most of your health problems better than any medication I could prescribe you," he said.
Dr. Brown received a Bachelor of Science degree from Northeastern State University in Tahlequah, Oklahoma in 2013. He earned a medical degree from the Oklahoma State University College of Osteopathic Medicine in 2017. In 2020, he completed an Internal Medicine Residency at Northeastern Health System in Tahlequah.
Dr. Brown is a member of several medical organizations including the American College of Osteopathic Internists, the American Osteopathic Association, the American College of Osteopathic Family Physicians, the American College of Osteopathic Emergency Physicians and the Christian Medical Association.
When he is away from the office, Dr. Brown enjoys fishing, golfing and spending time with his wife and two kids.
Hillcrest Hospital Henryetta is located at 2401 W. Main St. in Henryetta.