Judd Miller, D.O.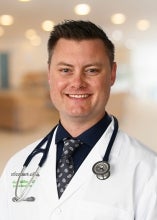 Location
Hillcrest Hospital Henryetta
Henryetta,
OK
Specialty
Judd Miller, D.O., cares for hospitalized patients. He has been in health care since 2018. "My care philosophy centers around treating each patient with the honor and respect they deserve," he said. "I inform patients about their diagnoses and treatment options, and then work together with them as a team to formulate the most appropriate treatment plan moving forward."
Hospital medicine appeals to Dr. Miller for several reasons. "It's fast paced, there is an enormous amount of variety and I have always enjoyed being part of a team working together towards a common goal," he said.
Dr. Miller emphasizes the importance of committing to better health. "I'll encourage you to take responsibility for your own health through actions such as exercise, eating a healthy and balanced diet and not smoking," he said. "My goal is to help encourage you to make sustainable lifestyle changes that will keep you out of the hospital and active and independent as long as possible."
Dr. Miller received a Bachelor of Science degree and a Master of Business Administration degree from the University of Central Oklahoma in Edmond, Oklahoma in 2009 and 2010, respectively. He earned a medical degree from the Oklahoma State University College of Osteopathic Medicine in 2018. He completed an internal medicine residency at Tahlequah Medical Group in 2021. Prior to joining Utica Park Clinic, Dr. Miller worked at Northeastern Health System Sequoyah in Sallisaw, Oklahoma.
When he is away from the office, Dr. Miller enjoys spending time with his wife Kate, being outdoors, hunting and fishing.
Dr. Miller cares for hospitalized patients at:
Hillcrest Hospital Henryetta
2401 W. Main St.
Henryetta, OK 74437