Jaime McMinn, APRN-CNP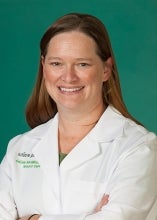 Location
Hillcrest Hospital Henryetta
Henryetta,
OK
Specialty
Jaime McMinn, APRN-CNP, practices wound care at Hillcrest Hospital Henryetta. She has been a health care professional since 2005. She chose to focus on wound care because of an experience during school. "I had the privilege of shadowing a wound provider for a few days," she says. "I was fascinated by what she was able to do for her patients."
Ms. McMinn emphasizes compassionate and competent care. "I will treat you the same way I would expect my own family to be treated," she says. She teaches others to make smart food choices and to take daily walks if possible in order to maintain a healthy lifestyle.
Ms. McMinn earned a Bachelor of Science degree in nursing from Oklahoma City University in 2005. She received a Master of Science degree in nursing from Purdue University Global in Fort Lauderdale, Florida in 2018. Prior to joining Utica Park Clinic, she practiced at Lakeside Women's Hospital in Oklahoma City.
Ms. McMinn's personal interests include spending time with her family, going to the lake, gardening and reading.
She cares for patients at:
Hillcrest Hospital Henryetta
2401 W. Main St.
Henryetta, OK 74437