Eric Mathis, D.O.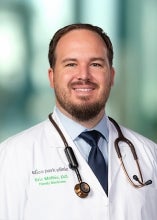 Location
Utica Park Clinic
Henryetta,
OK
Specialty
Eric Mathis, D.O., specializes in family medicine.
Dr. Mathis was introduced to the health care field when he was a teenager offering help after a hurricane. "I had an opportunity to work alongside a retired physician while providing some hurricane relief work as a teen," he said. "I was impressed early on by this physician's ability to provide peace and reassurance to people's lives during such a terrible time. He wasn't prescribing medication that day, but he was 'treating patients' and I was really able to see the depth of medicine. Empathy, patience and reassurance did more good that day than anything else."
As Dr. Mathis went through medical school, he realized the experience he had as a teenager would have more influence on his career choice than he knew. "Through medical school, I learned that I enjoy seeing a variety of patients and all areas of the body – a true comprehensive medicine," he added. "I really enjoy developing personal relationships with patients and keeping them healthy."
Now, as a provider he makes it a top priority to listen attentively to each patient and to involve them in their health and medical treatments.
"Your health is multidimensional from diet and exercise to mental wellness and chronic disease management. The journey to health and wellness starts at home; do everything you can, and I will work with you to help make up the difference," said Dr. Mathis.
Dr. Mathis' education includes:
• Residency in family medicine at Comanche County Memorial Hospital in Lawton, Oklahoma, 2022
• Medical degree at Touro University Nevada College of Osteopathic Medicine, 2019
• Bachelor of science degree in biology at Dixie State University in St. George, Utah, 2015
Outside of working at the clinic, Dr. Mathis enjoys playing tennis, golf, pickleball and spending time with his family.
Beginning September 5, Dr. Mathis will be welcoming new patients and accepting most insurance plans at:
Utica Park Clinic
2403 W. Main St.
Henryetta, OK 74437
For more information or to schedule an appointment, call 918-995-4183.