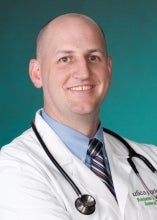 Location
Utica Park Clinic - 91st & Hwy 169
8803 S. 101st E. Ave.
Suite 320
Tulsa
,
OK
Specialty
Benjamin Kamp, DO, has been a General Surgeon in Oklahoma since 2010. Professional organizations of which he is a member include the American Osteopathic Association, American College of Osteopathic Surgeons and the Oklahoma Osteopathic Association.
Dr. Kamp earned his Bachelor of Arts degree at Vanderbilt University in Nashville, TN, in 1998. He received his Doctor of Osteopathic Medicine degree from the Oklahoma State University Center for Health Sciences in Tulsa in 2005. He completed his internship at St. Anthony's Hospital in Oklahoma City in 2006. He completed his General Surgery residency at Michigan State University, Botsford Hospital in Farmington Hills, MI, in 2010.
When he's not seeing patients, Dr. Kamp enjoys spending time with his wife and children, studying history, cooking, golfing and watching Oakland A's baseball.
Dr. Kamp welcomes new patients. Most insurance plans are accepted. He has two office locations:
- On the campus of Hillcrest Hospital South at 8803 S. 101st East Ave. (near 91st & Hwy. 169, just north of the hospital), Suite 320 in Tulsa
- In the Pine Medical Center Building at 1101 S. Belmont Ave., Suite 105 in Okmulgee.
Appointments can be set at either location by calling 918.294.8000 between 8:30 am and 5:00 pm, Monday through Friday.