Wes Updike, M.D.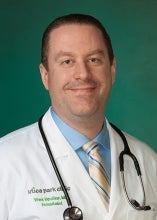 Location
Hillcrest Hospital Henryetta
Henryetta,
OK
Specialty
Wes Updike, M.D., has cared for patients in the Tulsa area since 2013. Prior to joining Utica Park Clinic and Hillcrest Hospital Henryetta, he worked at Bailey Medical Center in Owasso and St. John Medical Center.
Dr. Updike welcomes the opportunity to treat patients from all walks of life. As a hospitalist, he helps a wide range of people. "When interacting with patients, I try my best to treat everyone the same," he says.
Dr. Updike offers sound advice to his patients who are trying to get healthy or stay healthy. "I encourage them to eat low-glycemic foods and, if appropriate, use HIIT (high-intensity interval training) for exercise," he says.
Dr. Updike earned a Bachelor of Science degree at the University of Phoenix in Tulsa in 2004. He completed a medical degree at the American University of the Caribbean School of Medicine in St. Maarten, Netherland Antilles in 2009. He finished a residency program at Deaconess Hospital in Evansville, Indiana in 2013.
Dr. Updike's personal interests include shooting sports, traveling with family and fishing.
Dr. Updike cares for hospitalized patients at Hillcrest Hospital Henryetta:
2401 W. Main St.
Henryetta, OK 74437