Shawna Passman, D.O.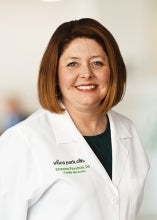 Location
Utica Park Clinic
Henryetta ,
OK
Specialty
Shawna Passman, D.O., practices family medicine and has been in health care since 1998. "My mother is a nurse and I have always been fascinated by how the body works," she said. "At a young age, I learned CPR and first aid. In undergraduate studies, I became an emergency medical technician. I have enjoyed treating patients in multiple disciplines and settings."
Dr. Passman chose to focus on family medicine because it allows her to treat a variety of patients. "I enjoy caring for people and providing definitive, comprehensive care," she said. "I appreciate versatility and family medicine allows me to see all ages, treat all parts the body and experience a long-term relationship with my patients."
Dr. Passman encourages patients to be consistent in their health journey. "It's easier to stay in shape than to get in shape," she said. "However, if you're past that point, I can help. Do something today that your future self will thank you for."
Dr. Passman received a Bachelor of Science degree from Northeastern State University in Tahlequah, Oklahoma in 2001. She earned a medical degree from the Oklahoma State University College of Osteopathic Medicine in 2018. She completed a family medicine residency through the Cherokee Nation at the W.W. Hastings Hospital in Tahlequah in 2021.
When she is away from the office, Dr. Passman enjoys traveling, spending time with her grandsons and watching movies.
Dr. Passman welcomes new patients and accepts most insurance plans. Her office is located on the campus of Hillcrest Hospital Henryetta at:
Utica Park Clinic
2405 W. Main St., Ste. A
Henryetta, OK 74437
For more information or to schedule an appointment, call 918-650-1180.