Pavan Brar, M.D.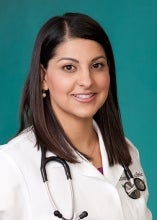 Location
Hillcrest Hospital Henryetta
Henryetta,
OK
Specialty
Pavan Brar, M.D., cares for hospitalized patients in Henryetta. She is a member of the Oklahoma Academy of Family Physicians and the American Medical Student Association.
Dr. Brar earned her bachelor's degree in psychology from the University of California – Davis in 2005. She received her medical degree from Spartan Health Sciences University in Saint Lucia in 2009. She completed her residency in Family Medicine at the University of Oklahoma School of Community Medicine in Tulsa in 2014.
Dr. Brar's professional interests include women's health, child & adolescent care, obesity and providing care to those who are underserved. In addition to English, she speaks fluent Punjabi and Hindi.
Dr. Brar's personal interests include dance, traveling, sports & exercise, hiking, health education & counseling, and spending time with her friends & family.
Dr. Brar sees patients at Hillcrest Hospital Henryetta at 2401 W. Main St in Henryetta.