Jennifer Patchin, APRN-CNP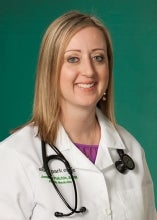 Location
Utica Park Clinic
Henryetta,
OK
Specialty
Jennifer Patchin, APRN-CNP, has been a Family Medicine Nurse Practitioner since 2014 and a health care professional in Oklahoma since 1996. Prior to joining Utica Park Clinic, she cared for patients in Weleetka, Shawnee, Wewoka, Wetumka, Seminole, Okemah and Okmulgee.
"I have wanted to help others since I was young," she says. "My brother had cancer at a young age and I knew – from watching the challenges he faced – that I wanted to provide care and comfort to others. I've watched doctors and nurses provide excellent care to my family members and learned how much even small gestures can mean to someone who is suffering."
"I want my patients to know that I'm caring for them in a genuine, compassionate and competent way. I strive to provide the same care to my patients that I would provide for my own loved ones."
Jennifer earned her Bachelor of Science Degree in Nursing at Bacone College in Muskogee, OK in 2012. She completed her Master of Science Degree as a Family Medicine Nurse Practitioner at the University of South Alabama in Mobile, AL in 2014. She is a member of the American Academy of Nurse Practitioners.
Jennifer's personal interests include kayaking, hiking and reading.
Jennifer welcomes new patients and accepts most insurance plans. Her office is located on the campus of Hillcrest Hospital Henryetta at:
Utica Park Clinic
2405 W. Main St.
Henryetta, OK 74427
For more information or to schedule an appointment, call 918.650.1180.