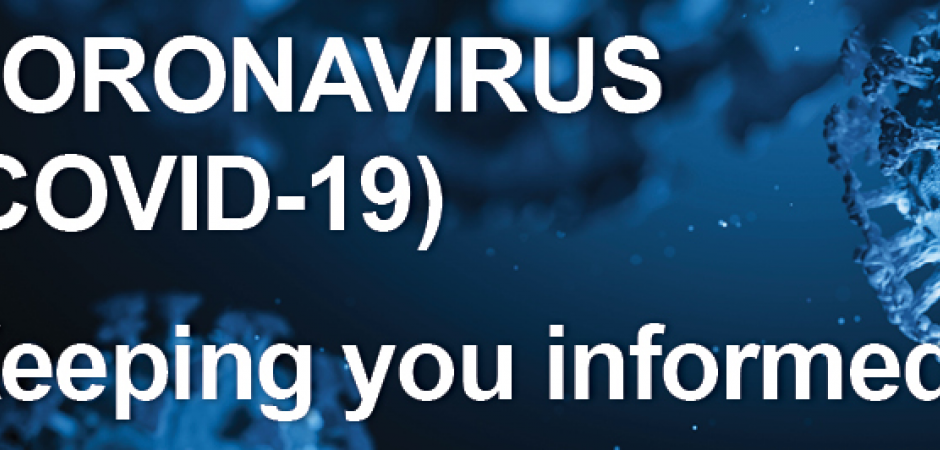 Our Commitment to the Community
Information is flowing at a rapid pace as the COVID-19 coronavirus outbreak continues to evolve. We are closely monitoring updates from the World Health Organization (WHO), the Centers for Disease Control and Prevention (CDC), as well as federal, state and local officials. We have an emergency command center staffed with health care experts responding to the ongoing needs of our patients, employees and the community.
Our staff follow best practices, using recommended tools and techniques to protect themselves, including the use of personal protective equipment (PPE).
Hillcrest HealthCare System has established a COVID-19 Call Center. Operators are available Monday through Friday from 8 a.m. to 5 p.m. to answer your questions, provide support and connect you to a provider. The Call Center line is 918-574-0920.
If you have an appointment or need to visit the hospital for any reason, please view the sections below.
We are relaxing our visitor policy for your convenience while also maintaining certain protocols to keep you safe… because your health matters.
Visitor Policy:
Outpatient and emergency room patients will be allowed one visitor for the duration of their stay.
At this time, no inpatient visitors are allowed.
No visitors under the age of 18 will be allowed.
All visitors will be screened upon entry into our facility and will receive a mask. Masks will be required even in patient rooms.
Patients and visitors may bring in their own masks.
Please follow social distancing guidelines and stay within the patient's room and cafeteria.
Thank you for following these guidelines and helping us ensure your health and safety.
If you have a medical emergency, call 911 and tell the dispatcher about your symptoms and recent travel history.
If you do not have a medical emergency, but need medical care, stay home and call your health care provider for instructions. When you call a health care provider, be prepared to answer questions about your risk factors for COVID-19 such as:
In the last 28 days, have you traveled outside of the United States or to communities with broad outbreaks?
Have you had close contact with someone diagnosed with COVID-19? (Close contact means having been within 6 feet of that person for an extended time, or being exposed to their cough or sneeze.)
Do you have a fever, cough or shortness of breath?
Has a public health officer said you were potentially exposed to COVID-19?
Do you have any previous health concerns including respiratory or immune system conditions?
If you need to visit a health care provider, ER or urgent care center, please go alone if possible.
Do not bring children, family members or friends unless you require assistance.
Do not bring anyone who has a fever, cough or shortness of breath or is considered medically vulnerable.
Stay Calm
The possibility of having a contagious illness is concerning, but doctors, nurses and other caregivers are working together with national and international agencies to identify and provide care to patients while minimizing spread of the illness in the community.
Coronaviruses are a type of virus. There are many different kinds and some cause disease. A newly identified type has caused a recent outbreak of respiratory illness now called COVID-19 that started in China.
Symptoms
Fever
Cough
Shortness of breath
Can be mild or severe
Can result in pneumonia
Chills
Repeated shaking with chills
Muscle pain
Headache
Sore throat
Loss of taste or smell
Transmission
A person infected with COVID-19 may spread the virus for several days without having any symptoms.
COVID-19 may spread through tiny droplets in the air or when a person touches another person, object or surface where droplets are present.
Treatment
COVID-19 can be diagnosed with a laboratory test
There is currently no approved medication to treat COVID-19.
Antiviral medications are currently being tested to see if they can address symptoms.
Prevention
Practice physical distancing and remaining 6 feet away from individuals.
At home and work, clean frequently-touched surfaces such as doors and doorknobs, cabinet handles, bathroom hardware, tabletops, phones, tables, remote controls, keyboards regularly with disinfectant.
Wash your hands frequently and thoroughly for at least 20 seconds with soap and hot water. Be mindful to wash your hands after sneezing, blowing your nose, coughing or using the bathroom, and before preparing or eating food.
If you cough or sneeze, do so into the bend of your elbow, not your hand. You may also use a tissue and then immediately throw it away and wash your hands.
Stay home if you are sick.
There is currently no vaccine for COVID-19
We are confident patients entering our facility for inpatient or outpatient care are safe.
We care for infected patients in isolated areas of the hospital. Access to these areas is limited to a small group of staff who only care for patients in that area.
The materials used to care for infected patients are isolated and handled using the most current infection-control practices.
For the safety of all, our environmental care staff uses evidence-based disinfection procedures and products.
We understand the public's high level of concern and are committed to protecting our patients' privacy.
How the Community Can Help
We've received so many kind requests from community members offering to make masks for our employees. We ask for masks to follow a few guidelines. Please use new material and wash and dry on the hottest setting before cutting in order to pre-shrink the material. Use a device to tighten around the bridge of the nose. We ask for three fabric layers. Please reference the attached mask pattern that is acceptable for use at our hospital. Masks may be delivered Monday-Friday between 8 a.m. – 5 p.m. or you may leave with the emergency room clerk after hours. We thank you for your thoughtfulness.
This page is updated regularly to reflect the latest recommendations and best practices.